Awesome!! I am totally obsessed with this movie right now. It's a rock opera/musical depending on how you define them.
"The movie is set in the year 2056; 26 years after an epidemic of organ failures devastated the planet.
Out of the tragedy, the Bio-Tech Company GeneCo, run by Rotti Largo,
emerged to provide organ transplants to the needy populace.
Through his efforts, Rotti also got approval to create the Repo Men,
assassins dispatched to deal with customers who default on their payments. "
It has a cult following already, I think it may end up being bigger than rocky horror someday. Maybe. I enjoyed it far more than Rocky Horror personally. It's gory, so those with sensitive stomachs may want to avoid it. It's awesome though. It has Sarah Brightman in it!! She is my favorite female character in the film actually: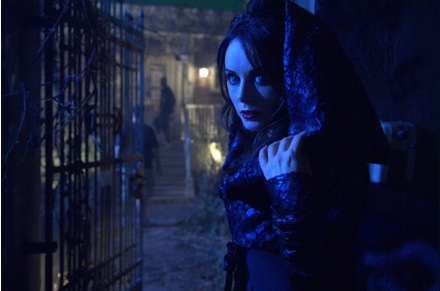 The other fave char is Graverobber, an illegal dealer of a pain medication called Zydrate, which can be obtained from, you guessed it, corpses. He acts as a kind of narrator in the film, he's a neutral character, and he's super sexy (I think)